"I'm in love with cities I've never been to and people I've never met." ― Melody Truong
This Tuesday's prompt is courtesy of That Artsy Reader Girl. I think I did a similar post to this before and I think it might be this one so if you're interested then go forth and check that out. The topic may be somewhat redundant but that didn't stop me from once again making another list.
Feel free to join the Tuesday party and share yours as well! Here's mine:
---
Hogwarts (Harry Potter)
No doubt on everyone's list. I wanna play quidditch, take a peek at the mirror of erised and of course stay there forever…
Established around the 10th century, Hogwarts is considered to be one of the finest magical institutions in the Wizarding World. The castle is located in the mountains near a loch. The precise location of the school can never be uncovered because it was rendered Unplottable. To Muggles, the school looks like an old abandoned castle.
Also:
Newt Scamander's Magical Case
(Call me an adopted Niffler)

Terrasen (Throne of Glass)
Terrasen was founded by Brannon of the Wildfire and his wife and mate Mala Fire-Bringer.  Located in the northernmost part of Erilea. Founded by House Galathynius, Terrasen is one of the largest kingdoms on the continent. It is mainly made up of old woods, such as Oakwald Forest, and has mountains in the very north of the kingdom.
Especially now that it's being rebuilt (the series is now finished, I lament) and Queen Aelin is here to rule! Also looking forward to that library and theatre, Consort.

Velaris (A Court of Thorns and Roses)
Velaris, or the City of Starlight, is a hidden city on the western side of the Night Court. It is home to the Court of Dreams, one of the two sub-courts of The Night Court. The walls of Velaris had not been breached in over five thousand years.
I want to meet the Court of Dreams, be a godmother or playmate (depending on the situation) to the High Couple's baby, and measure Illyrian wingspans.
Alicante (The Mortal Instruments)
Also known as the Glass City or City of Glass, is the home city of the Nephilim. It is the capital and only city of Idris. Here, the Council and several Shadowhunter families reside.
I'm looking for my very own Herondale.
The Refuge (Guild Hunter series by Nalini Singh)
The Refuge is a secret and hidden territory—a neutral retreat where Angels learn and train, teach, study, work and heal. It is also a sanctuary for their young.
"The very first ones of our kind, the ones from before recorded history, before all known Ancients, so old that they are almost another species. Legend said it was the influence of the Sleeping Ancestors that kept the Refuge's weather mild, but for irregular seasons of snow and ice. When winter comes, it's because an Ancestor is distracted by a dream. Or that's the story my mother told me when I was a babe." ―Raphael

"Immortals may disagree on many things, but on this we are united—our Refuge must never be known to mortals."
Which is why you've never heard of it before now (and I really wish people talk about this series more, it's fantastic!). Waiting for Bluebell's story still. I'll be at The Refuge when it comes out a thousand years later.
---
Mahoutsukai no Yome's world
Where there be the magnificent dragons, the kingdom of cats, land of fae and more…
Mikage Shrine (Kamisama Kiss)
Maintained by a certain white-haired ayakashi. He also manages the troublemakers living there.
Mikage Shrine is the main venue of the series. It is where Nanami Momozono is directed to by the Land God, Mikage, and she begins her journey as its new God. There she encounters Tomoe and other characters. For the duration of the series, the Mikage Shrine serves as Nanami's home.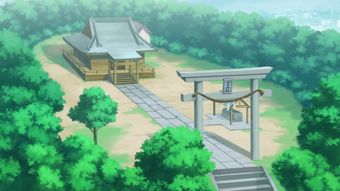 Oumi Jinguu Shrine (Chihayafuru)
The shrine hosts the annual National Karuta Competition which all the Karuta players dream of participating at. The highlight of the tournament is, of course, the title match for Master and Queen.
I'm at the front seat for Chihaya and Shinobu's match! I'd say for Arata and Taichi too if I have a clone to spare.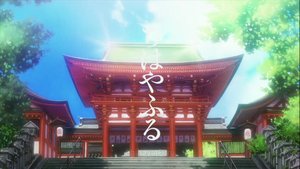 Suzuha's Tree (Noragami)
The tree serves as a reminder of a sad and romantic story. It's about two souls, Suzuha and Tomoko, and their memories every summer and the inevitable passage of time. Not only it's a lovely tree holding precious memories, but it's also a perfect picnic spot. Moreover, I love that place because that's also where two certain gods made up and got drunk and… well, you know the rest. Or if not go check out Noragami!
---
That's it for this Tuesday! Thanks for reading.