The Animanga Festival is an event hosted and created by our lovely Auri over at Manga Toritsukareru Koto to celebrate not only their blog's anniversary but also a way to connect with other animanga lovers, bloggers and more! Simply put, it is a month-long festivity that includes aggressive writing prompts, intriguing competitions, whacky activities, remarkable talent, and all-round fun!
If you want to find out more about the festival, head over to Auri's blog or check out this brochure and sign up here to join in on the fun!
PROMPT: Trip Itinerary to Places You'd Like to Visit in Manga/Anime
What's a world of fantasy without another infatuated fan who would like to drop by and stay there for a while, right? I've done a similar prompt before in a top ten tuesday post but I wanted to share some of them again here in this animanga festival, and feast our eyes with the visuals these places in anime I would love to visit.
I'm so bad at making itineraries and I rarely follow them so just consider this a rough draft of my one day trip. No estimated time included in each stop because it would probably slip my mind, but note that this is all done in a day and time is relative especially in the magical world. I'm also working under the assumption that these lovely places are all connected and under the same dimension – like cities in one country, so don't burst my bubble!
First stop would be at:
Howl's Moving Castle
I don't even know how I caught up to it in the first place but let's just say I opened a door and walked in and ta-da!
Who wouldn't want to take a peek inside Howl's room? It's a treasure trove all in itself and I'd be spending hours there trying to discover every interesting trinket lying around.
By the end of my treasure hunt at his castle, and through its magic, I'd probably ask to be dropped off at Elias' house in:
Mahoutsukai no Yome
Because their library looks mighty interesting compared to mine! Maybe I would stay for an hour or two reading with Chise.
Make a side trip to the fae and end my visit with the dragons. Assuming I get to ride one, that's my transportation to my next stop!
Mikage Shrine (Kamisama Kiss)
Probably where I'd take a rest for a while and hope that a certain white-haired fox would be accommodating enough.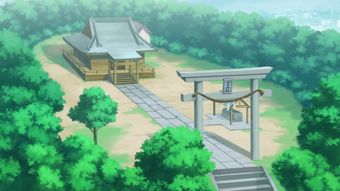 Here lies the guest (aka Me)
Oumi Jinguu Shrine (Chihayafuru)
After a refreshing rest, it's the afternoon and coincidentally it's the Meijin and Queen's title match!
The shrine hosts the annual National Karuta Competition which all the Karuta players dream of participating at. The highlight of the tournament is, of course, the title match for Meijin and Queen.
I'm at the front seat for Chihaya and Shinobu's match! I'd say for Arata and Taichi too if I have a clone to spare.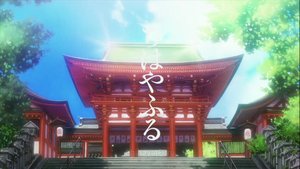 After a most intense and exhilarating match (my presumption of course but most likely true), I would conclude my one day trip by stopping at:
Suzuha's Tree (Noragami)
Where the perfect picnic spot is, and I'm probably having a drink or two with this crew.
How I got home is a mystery because I passed out drunk and woke up in my bed…
---
---
I'm not sure if I even did this prompt right, and it's also quite sad that I'm going through this trip alone and was basically just a party-crasher in each of my stops. Anyone want to join me? What do you think of my trip itinerary by the way? Also, thanks for reading!