"You have a brother (hyung), but you can't call him your hyung?"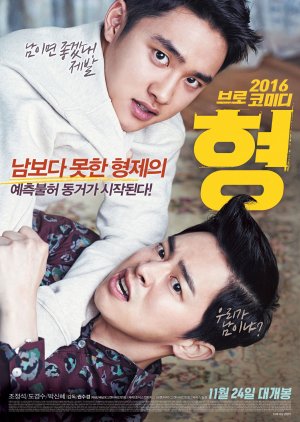 Native Title: 형
Genres: Comedy, Life, Drama, Family, Sports, Tragedy
Release Date: Nov 23, 2016
Duration: 1 hr. 50 min.
Doo Sik is a shameless swindler who receives a parole sentence after spending some time in jail. He has been away from home for 15 years. Meanwhile, his younger brother Doo Young, is a skilled Judo athlete who suffers an accident while participating in a national contest. My Annoying Brother also known as "Hyung" tells the story of these two reconnecting brothers and their time living together.
---
I was expecting this movie to be all about sports and about the two brothers, and while those aspects were definitely present, I still got more than what I was expecting with a few extra tears plus comic relief on the sides. This film portrays lots of brotherly banter and scenes filled with love, pain, and is ultimately a story of redemption. But the redemption of whom exactly? After watching, I can only say that it is of both brothers and not only in terms of their relationship but also with regards to their own lives.
The best parts of this film:
The brotherly bond or the bromance of our two main characters Go Doo Sik and Go Doo Young. After all, the title of the movie is Hyung, which is the Korean term used to address someone older between males or blood brothers, so those scenes were given. To emphasize how well this bromance was delivered, we have to mention the talented new actor D.O (member of boy group EXO) and the veteran actor Jo Jung Suk. These two were just perfect in their roles! The chemistry, brotherly bond, and nuances between them were perfectly portrayed, realistic, and believable. These two doesn't even look alike to pass off as brothers (probably because they're only half-brothers in the film if I understood it correctly) but I wouldn't have any other actors playing their roles. I was totally sold on their effortless portrayal of the love-hate sibling relationship which is the highlight of this film.
There's also the presence of actress Park Shin Hye (Lee Soo Hyun – Doo Young's judo coach) who I thought would play a part in the romantic side of things but I'm glad they made her character as someone who supported the brothers. After all, this movie is about brotherly love and not romance.
This is also the film where I learned the curse words in South Korea (lol) as it has been used so many times by Jo Jung Suk's Go Doo Sik. He is, by the way, a con-man who used his brother's disability as an excuse to get out on parole, who doesn't seem like he has much of a conscience and has been bullying his little brother after getting released. But there is more to him than being the asshole that he would constantly portray. It's in the little things he does for his brother Doo Young while acting all pissed, and can also be seen in his reaction after Doo Young's outburst about their parents. Halfway through the film, you'll eventually see that he really cares for his little bro despite his total jerk moments. His development as a character is one of the film's major plot point, though I was pretty miffed at the tired trope twist about his character — Doo Sik did come through and claimed his rightful title as a Hyung. It was also a given that Jo Jung Suk did a good job with his role, veteran actor that he is, he really fit the role of the asshole brother with a soft spot underneath for his dongsaeng.
Do Kyung Soo (stage name D.O in EXO) really shined as the actor that he is in this movie! Forget about the great vocalist or the quirky character and savage D.O that you would usually see in his idol persona in EXO. He is actor Do Kyung Soo here and the real deal. From the first time I saw this guy in the drama It's Okay, It's Love and his acting chops in EXO Next Door I knew he would be a successful actor going by those expressive big D.O eyes. But in this role he is blind — Doo Young who loses his ability to see and along with it his budding judo career and adding that to the death of his parents, he inevitably fell into depression. I really can't praise D.O enough for his acting in this movie and I suggest you just watch this one to truly appreciate it!
This story of a blind athlete and his conman of a brother is in simple words: heartwarming. It is a roller coaster of emotions waiting for you. It will tug at your heartstrings and then make you laugh until your tummy hurts. I died laughing at that lesson on picking up girls. Look out for this scene:
"People have two kinds of eyes. Their physical eyes and spiritual eyes."
My Annoying Brother is a film that a lot of people could relate to in terms of the realistic sibling banter and the lessons it carries — that family will always be there for you when you have nothing left.
I laughed, cried and was in awe of the actors in this film for making me feel that way. Jo Jung Suk's performance was perfectly in tandem with Do Kyung Soo that they made this film worth a watch with their brotherly chemistry and acting prowess. This movie even with comedy and sports tagged in the genre did not really classify as such in the whole scheme of things though those aspects were very much present. This is a film about redemption and love. This is a story of two brothers who found their way back from the dark hole they were in and redeemed themselves with the help of the each other.
Look at these brothers singing together. Bring out the tissues you guys!