"Everyone's scared to stand up on stage in front of an audience. You're afraid that you might mistakes. That they'll totally reject you. Even so, you grit your teeth and get up onstage anyway. Something compels us, moves us to play music. That's how you create the most beautiful lie of all."
---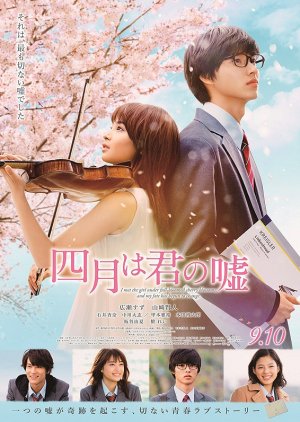 Native Title: 四月は君の嘘
Genre: Music, School, Psychological, Romance, Drama, Manga
Release Date: Sep 10, 2016
Duration: 2 hr. 2 min.

The story follows prodigious pianist Kousei Arima, also known as the human metronome. Since the death of his mother he has been unable to hear the sound of his piano and so he gave up playing. Two years later, he meets a beautiful violinist with a free spirit Kaori Miyazono, in the month of April, who inspires him to face music again. Meanwhile, Kaori holds a secret. 
---
I am probably one of the few that has yet to watch the anime version of this. I encountered the manga when it was recommended to me by one of my classmates and I proceeded to finish the whole thing in one day. I was crying my heart out after I finished reading it. I loved the manga and was looking forward to seeing the anime then. But things happened and I have completely forgotten about it afterward, though rest assured I will be sure to watch it soon.
Now here comes one Yamazaki Kento appearing everywhere in several drama and live actions, and long story short – I became a fan. And when I saw that he's playing the main lead for the live-action adaptation of one of my favorite manga, I immediately sat down to take a peek at this.
This story is all about music and the characters who are bound by it. Not only bound to their instruments but also to the people around them through their music. Arima Kousei is someone who has been suffering from psychological trauma after the death of his mother in which he blames himself, resulting in him not hearing the sound of his piano anymore. Naturally, the film should have given this an ample amount of focus for us to understand the character. Though it did touch upon the subject, it did not fully grasp the impact that Kousei's mother left in him. I have only read the manga but it does a better job of representing our main character's psychological trauma and elaborates on it than in the live action where it should have been better portrayed. And when he finally overcame the struggle to play, it was also done with less impact.
Though Kento did a good job in portraying the shy prodigy, his moments with the piano seem a bit awkward at times but overall it turned out really well for someone who only practiced playing the piano for half a year before the actual filming. Suzu and her performance with the violin accompanied by Kento was also done well.
The music is one of the best parts of the adaptation. Of course, it's all about the music — classical music at that. The scenes in which they play their instruments and they would convey their feelings through music were ultimately one of the best scenes. The cinematography is also beautiful especially when they were outside and amidst the trees and natural scenery, and when the main characters were out having fun. It's simple but it felt natural and often times provided a dreamy feel to the film.
Kento and Suzu did well in portraying their own characters especially Suzu who shined in this live-action though I prefer her performance in Chihayafuru more. But there was a lack of chemistry between the two. The friendship between Kaori and Kosei was the main focus in the film, or more like Kaori bullying Kosei into her will. The characters were complete opposites of each other in their music and attitude and Kaori would always challenge Kosei to do things beyond his comfort zone. Though Kosei's friends, Watari and Tsubaki were also present in the film, I feel like they could have been used more and their history with Kosei shown properly.
There was also Arima Kosei's rivals who could not have been shown due to the limited time the live action has. But I'm glad that they didn't try to squeeze them in because if Watari and Tsubaki's characters suffered in this, then how would it have been for his rivals, who have such meaningful and deep history with each other, if it's not done right.
Truthfully, I only watched this one because Yamazaki Kento was in it. I was contemplating watching the anime before giving this a peek, but considering the fact that the anime would have been longer and this was only a two-hour watch, I decided to watch this one first. Yamazaki Kento and Hirose Suzu are among the rising actors in their generation and this film could have been better if the story was more fleshed out. I did not hate it but I also did not love it as much as I thought I would.
It's probably a sign that I should watch the anime soon…  Time to shed some proper tears.