A writer is truly one with a backstage pass to someone else's life
---
Letters to Juliet (2010)
Genre: Adventure, Comedy, Drama, Romance

"Charlie doesn't approve, which makes it all the more fun."
What the film is all about:
Sophie a girl who dreams of becoming a writer travels to Verona, Italy where she finds a 50-year old unanswered letter – one of the many letters left addressed to Juliet at the Verona courtyard, which are typically answered by the "Secretaries of Juliet" – and being a believer in true love she writes a reply hoping to give the girl the answer she was searching for so long ago. She never expected her to come to Verona, bringing along her very attractive grandson. They soon begin a journey to find the notorious Lorenzo Bartollini.
---
The idea for the film was inspired by the 2006 non-fiction book Letters to Juliet by Lise Friedman and Ceil Friedman (a book I have yet to read), which is about the phenomenon of letter-writing to Shakespeare's most famous romantic heroine.
The film is charming, adorable, and sweet with a little bit of laughter at some points as well. The message of romantic love being timeless and one that can cross many generations was very well appreciated and felt. And then, of course, the setting itself where the movie is filmed – Italy, is truly gorgeous. There are breathtaking shots that make you want to hop on a plane after watching the film and go there yourself for your very own pre-honeymoon vacation (or maybe just a normal vacation for yourself).
Every minute of the film, you can probably guess what will happen next. But pathetically and desperately and being a sucker for romance, you will wait. And you want to see the characters more.
It will leave you feeling happy and remembering your own love story — or hoping for your own love story to come.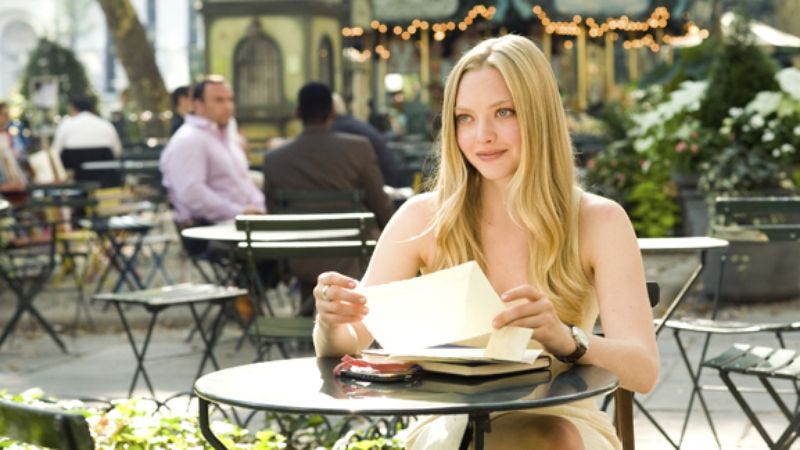 the 50-year-old letter:
Verona 1957

I didn't go to him, Juliet. I didn't go to Lorenzo. His eyes were so full of trust. I promised I'd meet him and run away together because my parents don't approve. But, instead, I left him waiting for me below our tree, waiting and wondering where I was. I'm in Verona now. I return to London in the morning and I am so afraid. Please, Juliet tell me what I should do. My heart is breaking, and I have no one else to turn to.

Love, Claire
And Sophie's reply:
Dear Claire,

"What" and "If" are two words as non-threatening as words can be. But put them together side-by-side and they have the power to haunt you for the rest of your life: What if? What if? What if? I don't know how your story ended but if what you felt then was true love, then it's never too late. If it was true then, why wouldn't it be true now? You need only the courage to follow your heart. I don't know what a love like Juliet's feels like: love to leave loved ones for, love to cross oceans for, but I'd like to believe if I ever were to feel it, that I'd have the courage to seize it. And Claire, if you didn't, I hope one day that you will.

All my love,
Juliet
Sophie's reply letter is my holy grail. From the first time I watched this movie until now, I have these words memorized. But what I love the most about it are the first two sentences. It really makes you wonder about those 'what if' moments in your life and makes you ponder about the opportunities that might be passing you by. Learning that 'what ifs' can be turned into 'what is'.
I love the words and the dialogues in this movie. They are romantic, inspiring and just wants you to hear more. And the characters are so easy to like. The spoilsport, cynical Charlie; the ever-romantic Claire; the elusive Lorenzo; and of course the fact-checker turned writer Sophie. Of course, it is also thanks to the original characters of William Shakespeare and the continuous references to the writer's works.
What makes the movie so fun was Charlie's obvious disapproval about the whole trip, his cynical views about love and his grumpy demeanor towards Sophie leading to their banter and witty digs at each other. But then, the city of love strikes again. One of my favorite scenes between the two was when they were lying on the grass and just talking (reciting Shakespeare of course).
And when they had finally given up the search, the elusive Lorenzo B. just rides in on his brown horse in a true-blue fairytale fashion. Go figure.
Vanessa Redgrave (Claire) is perfect for her role in this movie. She just gives life to her character that you truly believe she's meeting her long lost love again.
There was also a reference to another love story and another iconic couple! (Titanic's Jack and Rose) Lorenzo says, "My dear Claire, you have told me you lost your Jack. And you know l lost my Rosa."
Then there's the ending confession. This is a Shakespeare reference we're talking about, we can't forget about a balcony! This why most girls are single. I blame these romantic movies, but then again we keep watching them so we are partially to blame too.
Soundtracks on point!
"You Got Me" by Colbie Caillat ,   "What If" by Colbie Caillat ,  "Love Story" by Taylor Swift
And of course those Italian songs on their roadtrip to Lorenzo!
---
The Last Word (2017)
Genres: Comedy, Drama
"She puts the bitch in obituary. "
What the film is all about:
Harriet (Shirley MacLaine) is a successful, retired businesswoman who wants to control everything around her until the bitter end. To make sure her life story is told her way, she pays off her local newspaper to have her obituary written in advance under her watchful eye. But Anne (Amanda Seyfried), the young journalist assigned to the task, refuses to follow the script and instead insists on finding out the true facts about Harriett's life, resulting in a life-altering friendship.
Harriet's juvenile delinquent project was also a fun point in the movie. Her intern/assistant Brenda (AnnJewel Lee Dixon) is such a scene stealer! With lines like:
Brenda:"You got busted for drunk driving, did you?"
Harriett: "Excuse me?"
Brenda: "You're white, and you're here!"
Harriet's Words of Wisdom:
"When you utter profanity in public like that, you risk others thinking that you're too uneducated to find the right words."

---

"Please don't have a nice day. Have a day that matters. Have a day that's true. Have a day that's direct. Have a day that's honest. A nice day? Mm-mmm, you'll be miserable. Have a day that means something."

---

Fall on your face. Fail. Fail spectacularly. Because when you fail, you learn. When you fail, you live.
As much as I loved the first film, this one I watched until the end just so I would know how it would turn out. You could also say that Amanda Seyfried's performance was what made me stay until the end. Only after watching it was I able to appreciate the whole story and the message it was trying to convey.
This movie was a surprising find. Who among us doesn't wonder what people will say when we die? It is a story with substance and about a character taking stock of her life with terrifying efficiency, but also with a hint of humor and drama all throughout. And along the way, we get to know her character more. About a woman who took charge of her own life, not letting others tell her what to do and say, and being sure of what she wants.
---
Wrapping it up…
It's interesting to point out that in both films, Amanda Seyfried is 'gainfully employed' — one character is a fact-checker (Letters To Juliet) who wants to be a writer, and the other is an obituary writer (The Last Word) who wants to be a real writer, an essayist to be precise. The quote from The Last Word rang true: "A writer is truly one who has a backstage pass to someone else's life". This is especially true in both the films. We got to know more about the main characters (including the writer herself) through her interactions with her subject.
I have always adored Amanda Seyfried for her roles. I have also watched some of her movies like Red Riding Hood, Chloe, Mamma Mia, Les Misérables and many more. But those two movies up there are have become somewhat 'treasures' in my collection of movies (notwithstanding the critical reception, or even its popularity) starring her because they impart lessons on how to deal with your life, love and dreams.
It tells you…
To never stop believing whether it be to fate, or love or even to yourself. To turn what ifs into what is. And to be who you are no matter what others say because we are the writers of our own story.