"THERE ARE MONSTERS IN THE SEA."
Just ask Percy. (Wait… Nope. Sorry, wrong book!)
Here we go again with another book review out of nowhere. But I'm a happy bookworm so no one's blaming Eliza or LadyConstellation. No worries. We're good. I'm happy with this book … right? RIGHT?
BEWARE: A REVIEW OF A QUOTE HOARDER.
---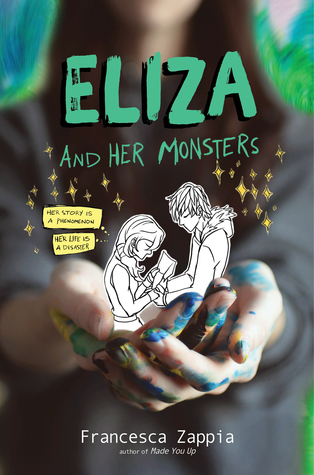 In the real world, Eliza Mirk is shy, weird, and friendless. Online, she's LadyConstellation, the anonymous creator of the wildly popular webcomic Monstrous Sea. Eliza can't imagine enjoying the real world as much as she loves the online one, and she has no desire to try.
Then Wallace Warland, Monstrous Sea's biggest fanfiction writer, transfers to her school. Wallace thinks Eliza is just another fan, and as he draws her out of her shell, she begins to wonder if a life offline might be worthwhile.
But when Eliza's secret is accidentally shared with the world, everything she's built—her story, her relationship with Wallace, and even her sanity—begins to fall apart.
Published: May 30, 2017
Genres: Contemporary, Young Adult, Romance, Mental Health
---
This is a book after my own heart!
She got me at the cover and heard her 'read me! read me!' plea. And I am but a weak bibliophile without much self-control. I read this book in one sitting because how can I not?
Even Eliza can relate with me, except she draws while I read:
"My superpower is the ability to draw for hours without realizing what time it is or that I haven't eaten in too long. I succeed in disappearing in my disguise, and I excel at standing out in my true form."
There are so many things I like about this book! But let's start with them criticisms just to get it out of the way. The story is very much like some of the books I have already read. It is predictable, to say the least. But the good thing about this is we don't have to think too hard about what happens next, we can focus wholly on the characters and how they are amazingly geeky-gorgeous and relatable and normal. No one with stunning looks, no superpowers and no over the top drama here. This is real life here, people. The life of an introvert and where she felt most at home.
"That computer is my rabbit hole; the internet is my wonderland. I am only allowed to fall into it when it doesn't matter if I get lost."
Another good thing about this book is how it made you feel like you belong to a much bigger world. That you are not alone. I know it is a cliché (sue me), but it doesn't make it any less true.
(Fandom wars, the fall of fandoms, disbandments left and right and heartbreaks all around! Easy to love but harder to forget). If you are part of any fandom you'll know! Whether it be of manga, anime, k-pop or books, it doesn't matter; as long as you feel passionate about something and you devote your time and effort into it, it will drag your body and soul to the world of the internet -where you find awesome people and trolls alike- and will still leave you wanting more.
And guess what?
 This book made me cry. As in cry so hard my eyes are puffy this morning when I woke up. I don't remember exactly which part but I remember my thoughts when I was staring at my kindle trying to read through my tears: I thought of how distant Eliza was to her parents that I wish I wasn't the same to mine; I thought of how she never really paid attention to her brothers and missed mine back home. I thought of all the fans out there getting ridiculed for what they love just because they don't fit in. And lastly, I thought of how thankful I am for the online world for giving us space where we can express ourselves.
"Explaining something online is as simple as pasting a link and saying, "Here, read this." They click. Read the intro page. If they like it, they keep reading. If not, oh well, at least I didn't have to talk."
Notwithstanding how I felt about the story/plot, I connected with Wallace and Eliza in this book so much that it didn't matter anymore. I quote, "When the characters are good, they make you care about everything else." I KNOW! The quotes pretty much wrote this review for me and I love it. I love that when I have no words to explain, there are words already there to convey what I'm trying and failing to say.
"I know most people would think it's silly or stupid to explain things this way, in scenes and quotes, but we're both fluent in the language of Monstrous Sea. This is the way I understand him best." – Eliza
Wallace's Wise Words
"There are monsters out in the world, but usually the worst monsters live inside us. I like stories like that because they're not so obvious. There's more to like about them than what they have to teach you. You know?"
Just like how this book NOT ONLY tells a story about the mother of a fandom and her anxiety and struggles, to become someone who can unapologetically BE HERSELF and not just her online persona; it also tells each reader a story of their own. They find themselves in the pages, in the quotes and even in the drawings LadyConstellation shares. (Just like me. Hopefully, not only me. You guys are out there right?)
Eliza is my spirit animal in these quotes:
"If I had my way, I wouldn't look like anything at all. I would be a free-floating consciousness that can also somehow draw. I don't care how I look. I don't want to care." — (Who cares about makeup? Your mirror do. Now go tidy yourself up.)
"I learned years ago that it's okay to do this. To seek out small spaces for myself, to stop and imagine myself alone. People are too much sometimes. Friends, acquaintances, enemies, strangers. It doesn't matter; they all crowd. Even if they're all the way across the room, they crowd. I take a moment of silence and think: I am here. I am okay."  — (Please don't mind me. I'm just breathing fine here. Sincerely, an introvert.)
AS I SAID: THIS IS A BOOK AFTER MY OWN HEART. Every quote fit and every character much beloved. I think I was Eliza at first who devours a book in one sitting then rereads it over and over again, and be Wallace much later who reads it slowly and carefully appreciating each page. Living the best of both worlds!
I feel like I have missed many points this review should have, like more character analysis (Shoutout to Emmy who is NOT A TWELVE YEAR OLD and Max the Apocalypse_Cow with boy advice — and their friendship with Eliza); how the story developed (Wellhouse Turn!! O_O) and how it ended.
But more than the technical aspects of the book, I wanted to share how I felt. How the author, even with a somehow familiar story, delivers wonderfully (in my opinion) Eliza and Wallace – navigating through their issues in the real world. Even LadyConstellation's Monstrous Sea and how her characters were with her every chapter, every step of the way is a delight to read!
Me at the end of the book just like Wallace: "I am an absolute wreck of a human being, and right now I am completely okay with it."