Well, this was another impulsive watch. I should probably make a category of that: 'my impulsive watches' but then that would not be impulsive anymore. 
This impulsiveness was courtesy of the latest manga update of Hirunaka no Ryuusei! But it was already completed you say? Yes, it was. But epilogue after epilogue has been provided for us who are thirsty to know more about their happily ever after.
So after reading that latest chapter, I find myself watching the live action version.
---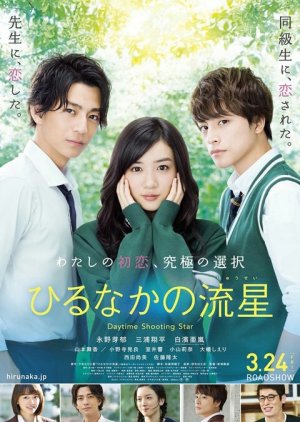 Native Title: ひるなかの流星
Release Date: Mar 24, 2017
Duration: 1 hr. 59 min.
Genres: Comedy, Romance, School Life, Shoujo, Slice of Life
Yosano Suzume has lived deep in Japan's countryside all her life until she's forced to move to Tokyo to stay with her uncle. A new city, a new crowd, and a new tall, dark haired peculiar stranger that just happens to be her homeroom teacher… It is about a young girl's experience of the heartbeat of first love, and the agony of what comes after. It is based on a manga of the same name by Yamamori Mika.
---
I will keep this short and sweet. I mean, I will try. 
The moment I started this, I got this funny feeling that I will not like it. I have such high expectations for this that I instantly know I will be disappointed. When you try to fit a 12 Volume and 78 chapters' worth of feels and rollercoaster ride starring Yosano Suzume in a 2-hour movie version … the results may not always end well.
To start off, I want to declare my love for the manga version of this. It seemed pretty ordinary at first, but the development of the characters in the story and the events that shaped their choices was something that attracted me more than the usual Shoujo type stories.
The story of a young girl in a new city and her naive, innocent and straightforward ways of dealing with things – Yosano Suzume is one of the characters I really admire. Her naivete is one of her charms and her unrelenting effort to make friends in her new school led me to another interesting character – Yuyuka Nekota. As much as I love the romance in this story, I was first hooked by the kind of friend Suzume was especially towards Mamura Daiki. She brought him out of his shell and forced the boy who is awkward with girls to step outside his comfort zone. Here I am ranting about the things I love about the manga when I should be talking about the live action. But as it is adapted from the manga so it's the same story.
Here's a scene from the movie to keep on track. I particularly loved this shot. Maybe because it's blue (my favorite color if you must know):
The movie itself as a whole felt pretty rushed. The details surrounding the three main characters and their love triangle were there but it was not properly laid out like in the manga. But we couldn't exactly ask them to make a 10-hour long adaptation, could we? But the point is, aside from the cringey acting from Shishio, and Mamura's ever stoic presence, I could not properly recommend this movie to someone who hasn't read the manga. They will not be able to properly appreciate the story and how it progressed: from Suzume's first heartbreak to her friendship turned romantic interest; her growth with her friends; her transformation from country bumpkin to city girl while still being typical Suzume; her relationship with her uncle and all that! Or maybe I'm asking for too much. Though some of the acting was a bit awkward and felt forced, I have to say that the movie delivered Yuyuka and Suzume's 'got off on the wrong foot at first' kind of relationship.
This movie should feel like a standalone or separate from the source material, but watching it just made me want to read the manga more. My mood during the movie was basically wistful for it until the ending scene.
But I could name three things I loved about this live action adaptation:
The cinematography!
Or maybe that's just me wanting to go to Japan badly.
"If I was going to hurt everyone like this, I shouldn't have done something like love." 
---
Mei Nagano as Yosano Suzume
She crept up on me. Much like how Suzume grew in her character, this girl (Mei Nagano) – it's as if in every scene she grew into her Suzume skin and by the end of it all I have become her fan.
---
The

ending scene of the film!
Not that I wanted it to finally finish but…okay maybe a bit.
Just seeing how they nailed the ending, I was ready to forgive the live-action for all its faults. That's how much I loved the way they stayed true to that scene between my OTP.
To end this short review, here's one of my favorite quotes from the manga:
"More than hurting myself, I found someone I did not wish to hurt at all costs."

(Yusano Suzume, Chapter 78.1 extra pages)