Remember that YamaKen list? Yep this is one of them.
---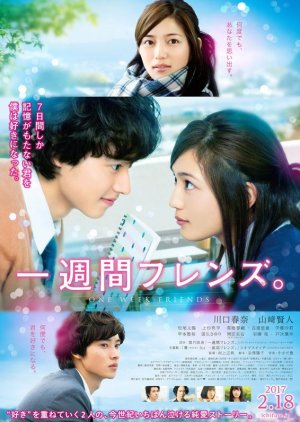 Native Title: 一週間フレンズ。
Genre: Comedy, Drama, School Life, Shounen, Slice of Life
Release Date: Feb 18, 2017
Duration: 2 hr. 0 min.

Kaori Fujimiya is always alone because all of her happy memories, including time spent with her friends, disappear every Monday. Deciding that he wants to be friends with her anyway, Yuuki Hase tries to get close to Kaori each week, wishing that she would one day call him "a friend." It is based on a manga of the same name by Hazuki Maccha.
---
Usually, I read the manga or watch the anime first before watching the live action adaptation since many of the producers seems to think that the premise of the story in such films are already known to the audience and just dive straight in. But this is a Yamazaki Kento film, and I have been his fan since his Death Note and Heroine Shikkaku days, so I cannot resist taking a peek.
What I promised myself to be a peek turns out to be a full-on two-hour watch. I have never been happier with my poor self-control.
Kaori loses her memory every week, and stubborn Yuuki who wanted to be friends with her devises a way for them to communicate and for Kaori to remember him. He proposes an exchange diary with her after his Eureka moment in class. The majority of the story is a battle of wills between the two, with stubborn Kaori and persistent Yuuki, but you cannot help but cheer Yuuki on and follow the story through. Later on, a wedge was driven between them with the appearance of people who have a past with Kaori and the reason for her memory loss.
First of all, I loved the cinematography of this film. Japan seems like a place you want to visit based on the shots filmed especially with the Sakura trees!
The mood of this film is very much school-based (I loved that domino bonfire their class did!). It also gives you a warm and lighthearted feeling as you continue to watch the scenes thanks to the background music. Our main character Hase Yuuki seems like the prankster of the class and is always giving a reason for his classmates to burst into laughter. I liked that he wasn't the typical main character who is isolated from the class or a loner. To add to his refreshing character, he is also an artist – a member of the Manga Research Club. This was one of the major points in the story since Yuuki seems to take pleasure in drawing and doodling his characters in the books he borrows from the library. When he met the elusive Kaori, he started his mini-series of drawing in the pages of the thickest and most boring book he could find. It is at the end of this movie that we will get to see his final work.
But the part that made such a huge impression was the delivery. Yamazaki Kento is such an adorable guy in here, running around and being earnestly stubborn that will melt any girl's heart especially one Fujimiya Kaori. He did such an amazing work being Hase Yuuki. Kento expresses such wide range of emotions that seemed to flow naturally from him and the effect is endearing to say the least. 
It is a story of friendship, of love and how one person's stubbornness can end another's loneliness.
"Please become friends with me."
I was bawling by the end of this film. Not because it is a tragedy or some emotional twist at the end. It's just the progression of the story was well done, and the scene at the end where Kaori finally remembers Yuuki through his drawings was especially moving. I loved how the flashbacks of her memory happened parallel to her flipping through his works. And if that last page didn't make you tear up a little, you are a cold-hearted fish! Not an effective insult, I know.
I loved watching this movie and will probably be checking out the anime or manga if I have the time to spare. If anyone knows how to donate time, I am dying to know that too. ㅠㅠ
But cheers to Yamazaki Kento and this movie which I think is one of his best up there with Your Lie in April and Orange.
Maybe it's the manga or the story by the author, maybe it's the actor or maybe it's the audiences' willingness to be absorbed into their works that bring us in such a high after we reach the end. Whatever it is, I am just glad that I find stories that bring tears to my eyes and warmth to my heart.