"Welcome, welcome to Caraval! The grandest show on land or by sea. Inside you'll experience more wonders than most people see in a lifetime. You can sip magic from a cup and buy dreams in a bottle. But before you fully enter into our world, you must remember it's all a game."
As it turned out Caraval is a perfect read this October. "Tricks and Treats" indeed.
---
Remember, it's only a game…
Scarlett Dragna has never left the tiny island where she and her sister, Tella, live with their powerful, and cruel, father. Now Scarlett's father has arranged a marriage for her, and Scarlett thinks her dreams of seeing Caraval—the faraway, once-a-year performance where the audience participates in the show—are over.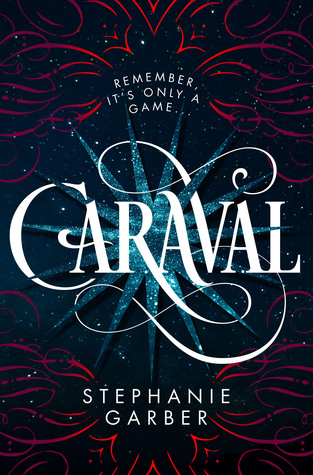 But this year, Scarlett's long-dreamt-of invitation finally arrives. With the help of a mysterious sailor, Tella whisks Scarlett away to the show. Only, as soon as they arrive, Tella is kidnapped by Caraval's mastermind organizer, Legend. It turns out that this season's Caraval revolves around Tella, and whoever finds her first is the winner.
Scarlett has been told that everything that happens during Caraval is only an elaborate performance. Nevertheless, she becomes enmeshed in a game of love, heartbreak, and magic. And whether Caraval is real or not, Scarlett must find Tella before the five nights of the game are over or a dangerous domino effect of consequences will be set off, and her beloved sister will disappear forever.
Welcome, welcome to Caraval…beware of getting swept too far away.
Published: January 31, 2017 
Genres: Fantasy, Young Adult, Romance, Magic
Series: 1st book, Caraval
---
First of all, I did NOT know I had this marked as read on my Goodreads when it is so clearly NOT. One of the reasons I just picked this up now! My shelves are a mess.
And also a shoutout to Birdie Bookworm & Angie Elle's Book Discussion for giving me the push I needed to finally read this. Yay!
Okay, I just finished reading this a few hours ago and I am still reeling! This book left me on such a high. It gave me a head rush, mixed feelings and … a hungry stomach. Replenishing my energy bar cause I forgot to eat .. Uh-oh.
If there ever was a thread or a book post about first liners that caught readers, this book definitely makes it in my list. The beginning line was as much as a hook to me as the letters sent to the Master of Caraval. The way Stephanie Garber writes it makes you curious about the characters already!
"It took seven years to get the letter right…"
What letter? Who wrote it? Is it a love letter? To whom? And so I let my curiosity gets its fill.
Another thing I loved about her writing is the way she describes everything. With such poetic and colorful words definitely designed to stir your imagination. Words which will draw you in Scarlett's point of view – in how she sees the world and the people around her.
Colors, colors everywhere. I have never known so many colors mentioned in a book save for Caraval – Cerulean blue. Apricot orange. Saffron yellow. Primrose pink. (Was gonna add colors to the fonts but NAHH I don't know the colors). Even Scarlett's feelings are described vividly in colors: her disappointment came in cool shades of forget-me-not blue; the sting of her rejection in shades of stormy blue; her nightmares the visions of black roses.
"Red. The color of love and heartache and other things both virtuous and vile."
Speaking of Red. Don't you just love her name? Scarlett. It is the color of passion and of love. But ironically, Scarlett is not the reckless and wild among the two sisters. But it is enjoyable to see her bloom in this book as she learns along the way that some things are worth the risk, and that to truly live – we must make our own choices. But true to her name, she gives so much LOVE especially to her sister Donatella who is quite the opposite of her. Comparisons may have been made too often to my liking, but it emphasizes how the two are as different as night and day.
"And while Scarlett had been drawn to the idea of Legend's magic. But Tella always wanted to hear about the master of Caraval's darker side."
Donatella while her presence in the story is a necessity, she is mostly in the background and makes her appearance at the end. I thought at first that it would be a journey of two sisters side by side. But the two made the journey through Caraval starting on opposite sides of the stage and met at the center.  I AM NOT GOING TO SPOIL too much because you have to feel the rollercoaster of emotions to fully appreciate this book. But at first, it was: "Scarlett now felt as if she were trying to rescue herself as well as Tella," and then: "All this time Tella had been working to save them both." So in a way, the two came full circle and LOVE wins in the end. YAY! I'm feeling Anna and Elsa vibes here people. Or am I the only one?
Julian & Scarlett …
For some reason, I was not expecting romance in this book… But I was pleasantly surprised. They were sort of a team at first, but their mutually beneficial relationship took a turn after several clues and deaths. Deaths, I tell you!
The mysterious Julian who refuses to call Scarlett by her given name. Described by her as 'tall, roughly handsome, and dangerous, like poison dressed up in an attractive bottle.' Girls, beware of handsome young men who turn up at your shores.
"Relax, Crimson—"
"It's Scarlett."
"Same difference."
It was perfectly reasonable to suspect him as the Master of Caraval himself. But as always, there is more to the story than meets the eye. There were twists after twists about him that I want to smack him in the head sometimes, but I forgave him in the end. Their romance was not quite the highlight of the story and it didn't eclipse the adventure and mystery of their quest.
Donatella & Legend …
The book is as much as an advertisement for the great spectacle knows as Caraval, as it is guessing who is the Legendary Master of it – one who is almost always pretending to be someone else.
"Scarlett had been drawn to the idea of Legend's magic. But Tella always wanted to hear about the master of Caraval's darker side. A part of Scarlett couldn't deny there was something seductive about winning the heart of someone who'd vowed to never love again."
It has been repeatedly said that Legend is a villain. He is cruel, a scoundrel, and a blackguard. But as you read through the book you are constantly thinking and piecing together the puzzle that is Legend. Is he really playing the villain this time? I think that answer depends on the person asked. I remember there was a line where Scar was telling Julian that he could be good if he wanted to. Julian replies by saying that she only believes that because she is good; decent people always believe others can be good too – like her.
In Scarlett's eyes, he is DEFINITELY a villain. She had thought her father was vicious, but she also considers Legend was just as much of a monster.
But to Tella, I would go as far as to say that Legend is her own kind of Angel. Tella who once said, that every night she prayed that an angel will come down and cut off her father's hands so he won't hurt anyone again. To which Scar replied – that it's not what angels do. Donatella then said: "Maybe not the kind up in heaven, but there are different kinds of angels."
I also think that the last part of the book was done well – preserving the mystery of the Caraval Master (and serving us up with hints of his true self through Julian), while we still wrap our head around their world and their rules. Or just to get our head back together. Hmm.
---
But just when you think that it is finally over.. IT IS NOT. Because as you have probably realized like Scarlett – that rather than feeling as if you are playing the game, it seemed as if the game is playing with you. (I felt like I was getting played by Miss Garber and I was a happy fool for it.)
The scenes in the story always come down to a choice. A choice to go or to leave. To buy or not to buy. To tell the truth or to lie. But every choice has its consequence.
By the end of the book, you will see Six Letters. A correspondence. Penned by two different people. They will drive you CRAZY wanting to KNOW MORE. And probably BEGGING for the next book. Tella is not just the shallow, reckless, and wild sister she appears to be in Scarlett's descriptions. She is MORE. And maybe … there is more to Legend as well.
The game is not really truly over until the last period of this book. It is full of twists that will give you a head rush and make you spout colorful words you never knew you had in you. It is a game within a game. A trick within a trick. A story within another story. Layers upon layers of mystery which will drive the reader crazy. You will ask yourself: am I still in the game? Is it still part of the story? Part of the game?
It seems every game truly has its own rules. But we just sort of forgot when reading through. Because even readers get caught up too. ONE MUST TRULY BE CAREFUL OF BOOKS! Tessa Gray's words rang true. I'm even thinking that Tessa is a real person and not a character of Cassie Clare's books.
---
Wrapping it up …
This book tells a story that is a bit (or more than a bit) like Alice in the Wonderland, with a dash of Sherlock Holmes' mystery solving – more in the flair but less the skill. But the descriptive language reminds me of Roshani Chokshi – how colorful, magical, and extraordinary the world the characters are in, and the words that describe it are very romantic and poetic.
I have this realization after reading this book, that Stephanie Garber is the real Master of Caraval since she drives the readers to near madness with her stories and twists. Much like Legend, she will trick you and make you think the game is over when it's not. She pushes you to think, to learn and to reveal your true self… She is a villain in a way that villains are manipulative, scheming, and mad. I also remembered Johnny Depp's Hatter asking, "Have I gone mad?" to which Alice then replied, "You're entirely bonkers. But I'll tell you a secret. All the best people are."
So thank you, Miss Garber, for being mad. And I mean that in a good way.
To sum this up, here are Scarlett's words telling it better than I ever will:
"It was starting to feel like too much to take in. Too many real threads mixed with false threads, all of them tangling together."