"For others, there might be books, movies and other forms of media to appreciate culture and storytelling, but the same can also be said for games."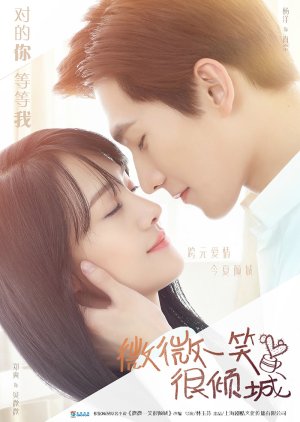 Native Title: 微微一笑很倾城
Genres: Comedy, Romance, Drama, College Life
Episodes: 30
Duration: 45 min.
Aired: Aug 22, 2016 – Sep 6, 2016
Xiao Nai is a gaming expert who, courtesy of his basketball skills, academic excellence, swimming talent and game company presidency, also happens to be the most popular student on campus. When he first comes across the gorgeous computer science major Bei Wei Wei, the infinitely talented wunderkind immediately falls in love. But it's not Wei Wei's looks that he notices; it's the ridiculous mastery with which she is commanding her guild and owning everyone in an online multiplayer game that makes her impossible to forget. Now, Xiao Nai must use his skills both in real life and online to capture Wei Wei's heart.
---
The college romance is based on writer Gu Man's popular novel known as "Wei Wei's Beautiful Smile" and "Just One Smile is Very Alluring."
"Love O2O has the perfect combination of cute romance, attractive leads, college student vibes, fantasy gaming, all wrapped in one enjoyable package."
— Dramafever
My thoughts…
Notwithstanding the pull of Yang Yang, and the bandwagon appeal of this drama, this is a solid drama about friendship, family, life, and love. I have enjoyed watching it the first time during its airing period, the second and the third time was for the pleasure of it, and then finally watching it again so I could write this review.
I have obsessed about this drama too much that I finally found the movie counterpart not long after.  The movie was based on the same story, starring Angelababy and Jing Boran.

Angelababy is my Bei Wei Wei!
I have often wondered what would have happened if she played the character in the drama too. But that's just wishful thinking and my fangirl heart speaking. I have to give credit where credit is due. Zheng Shuang worked hard too!
ACTORS & CHARACTERS…
Zheng Shuang did an okay job on this drama. But I'd really like to comment on how stiff she is with her scenes with Yang Yang. I love their banter and teasing most of all, but I always cringe during their kissing scenes and romantic encounters. On the other hand, Wei Wei as a character is an ideal college girl. Even though she is pretty much obsessed with her games, she is at the top of her class and able to balance her studies with her hobbies. She has clear values and beliefs that make for a perfect heroine.
Yang Yang is the perfect Xiao Nai. He portrays the character perfectly that I actually assumed that his personality in real life is pretty much the same. It turns out Yang Yang is very lively and not at all stoic or standoffish in his manner. His character Xiao Nai – dubbed as the Third Bro of his squad is actually their leader and the boss of their company. He's the type of character that will make you fall deeply in 'like' not only with his charming good looks but also with his mad skills with almost everything. Is there anything the Master cannot do? Oh yes, he cannot cook.
Er Xi. The best friend you wish you had. She is very supportive and loyal to her friends. She is also very bubbly and prone to fangirling. I love that the writer did not just make her a filler character but also one who developed at every turn. From her discovery of the online games to her first heartbreak and even her misunderstanding with Wei Wei – all of it contributed to her growth and also made their friendship stronger.
"I find it too embarrassing to look too starry-eyed so I'm calling you over to use your expressions…" (Wei Wei to Er Xi) BEST FRIEND LINE right there.

She looks like a fairy!!
Cao Guang. The actor who played Cao Guang is the same one who played the same character in the movie version. In this drama version, there are different actors for Cai Guang and Zhen Shui Wu Xiang. In the movie version, Cao Guang is actually Zhen Shui Wu Xiang himself. Cao Guang and his one sided love for Bei Wei Wei which also resulted in him almost single-handedly wrecking the precious friendship between Wei Wei and Er Xi. He was one of those annoying characters who constantly assume things and make trouble for them. In Bei Wei Wei's words:
"I don't like you at all. I didn't in the past and I won't in the future. People like you who always make an assumption based on your own views, I can't stand being here with you for a minute longer."
Zhen Shao Xiang / Zhen Shui Wu Xiang. The rich, easygoing, playboy character of the show. He can usually be seen at Michelin starred restaurants and expensive places. This guy's catchphrase is 'Waiter!'. His character development was mostly at the end of the drama which only happened due to his ongoing rivalry with Xiao Nai as he suffered a humiliating defeat after finding out his father's underhanded methods. His most attractive point in this drama is found not in his looks, his car or expensive suits. It was his decision to finally leave his father's company and start on his own that was his most attractive point.
Meng Yi Ran. The self-entitled rich girl with a spoiled princess attitude. She's considered one of the beauties in their university. Despite her title and her affluent background, she wasn't able to win the heart of Xiao Nai and she was led around by her 'friend' in her jealousy of Wei Wei. But in the end, she realizes her mistake and apologized to Wei Wei.
Overall, the acting was bearable for most parts but there were some awkward pauses and deliveries. There were some fun and witty dialogues which sort of made up for it.
RELATIONSHIPS…
The Xiao Nai squad – Yu Ban Shan, Hao Mei, and Qiu Yong Hou – also know by their usernames in the game: Yi Xiao Nai He, Yugong, Mozarta and Houzijou.
Roommates. Officemates. Co-founders (?). Playmates. Teammates. Basically all mates! It would seem I love these dorks more than the girls' squad. I always seem to be one of the boys, maybe that's why. These guys settle seniority over games. They bicker and bully each other too well like brothers do and poor Hao Mei bears the brunt of most of it. I love the way they support each other especially in times of crisis whether personal or business. It was satisfying to watch the 3 defend their 'sister-in-law' (Wei Wei) from the bullies. Watch out for their Suits fitting!
Wei Wei's girls – Er Xi, Si Si, Xiao Ling. Here's to the girls who keep up with the news and latest gossip in their school forum, who defends Wei Wei and get angry for her sake. The kind of friends who stay in the hospital til morning when one of them is sick, who joins you in your quest to pig out in whatever food you are craving and fangirls with you every step of the way. Their beauty regimen every night in their room is an enviable bonding moment. I want those face masks too!!
Meng Yi Ran and her 'friend' Nana
If there's a healthy friendship, there's also the opposite. Yi Ran who seeks validation of her worth is somewhat drawn to Nana who constantly influences her to do something especially if it is concerning her courtship of Xiao Nai or her dislike for Wei Wei. Jealousy sure is very ugly. Nana, on the other hand, sticks to Yi Ran for the luxury and the status quo. It was a very unhealthy relationship and very frustrating to watch. Like, girl can't you see what she's doing and think for yourself once, maybe? Fortunately, Yi Ran who sees Wei Wei and the way she treasures her friends realizes at the end [of her story in this drama] that it is not too late for her too.
Family. The family influence is strong in this drama. Their parents are very much involved in their child's life here and the values that they are trying to uphold can be seen in their scenes.
My OTPs!
Xiao Nai and Bei Wei Wei. Who said first loves don't eventually marry one another? These two is as perfect as a couple can be. Both gorgeous, both academically gifted, both skilled in gaming, and surprisingly both of them are also slight narcissists with the way they joke with their close friends. They encountered trials along the way because otherwise there'd be no drama, but they stayed together till the end. Every obstacle just leads them back to each other, making their relationship stronger. 
Hao Mei and K.O – I don't have the words to define exactly what they are to each other. They're more than best friends but less than lovers. They live together eventually but K.O stalks (or hacks) him before that. The stalking was because they were a couple in a game Hao Mei previously played and then dropped when he learned that his partner was actually a man! K.O is also forever Hao Mei's chef. How do you define this relationship?? A hint of BL maybe? Nevertheless, these two were very fun to watch. The always smiling Hao Mei and the stoic genius-hacker K.O.
---
The opening and ending of each episode of the drama basically spoil some of the scenes in the drama. Skip them. I had a love and hate relationship with them.
I had an issue with the voice dubbing at first, since it seemed a bit insincere when delivering lines and awkward to watch. But after being informed that dubbing was usual in Chinese dramas. They apparently do it to "normalize/standardize" their speech. It is in fact used to eliminate the accent of Mandarin used by the actors and actresses. The voice dub will be using absolute standard mandarin so we all can understand the drama series easily.
Yang Yang speaks with his own voice in this drama though. He also sang one of the OST:
"It's not a coincidence. I was waiting for you." 
This drama makes you want to play online games too! The online world is vast and scary but encounters like the ones here in Love O2O makes you want to wish for an online friend/partner turned real-life encounters.
There is also a scene that I like and it's not about romance or anything related to my OTPs. It's a scene where Xiao Nai talks about how games are not only for entertainment. For others, there might be books, movies and other forms of media to appreciate culture and storytelling, but the same can also be said for games. It can also be a channel to promote culture via innovation. More like using the technology of the present to preserve the rich history of the past with a medium made much more enjoyable to people.
A fun fact: the game in this drama is actually real. Many who enjoyed this drama greatly expressed their desire to play this game. Sadly, the game is in Chinese and as far as I know, there is yet to be an English version.
This is the first time I have watched a Chinese drama. The first time I also dared to watch such a looooong drama. But I loved every minute of it! Notwithstanding their acting prowess and the mini faults of this drama, this is a story worth watching! A story of friendship, romance, school life (even their work life), and the online world.